In
High Fidelity
, the characters compare their top fives in a variety of categories. Being big fans of both the film and novel, we here at the What bring you our Weekly Top Five, a feature focused on five fantastic things that you should become familiar with.
Christmas Movies & Specials
Last week we skipped the Weekly Top Five in order to enjoy some turkey. This week we're back with a special bonus edition top ten list to make up for it! Being that it is now December, here are the What's top ten Christmas movies.
10.
The Santa Clause
(1994) - This movie surprised me, and I did not really discover it until about ten years after it was released. I am, however, glad that I did finally watch it as it's a great Christmas movie, and Tim Allen is actually a fantastic Santa. The sequel is good too, but I can't vouch for the third film in the series.
9.
Rudolph the Red-Nosed Reindeer
(1964) - To pretty much everyone born after this was made, Burl Ives is known only in his snowman form. Ives is a wonderful narrator, taking you through the familiar story of Rudolph, with a few welcome variations from the song (misfit toys, Yukon Cornelius, etc).
8.
A Garfield Christmas
(1987) - I'm sure people will be taken aback that this special makes the list while
It's A Wonderful Life
and
White Christmas
do not. Well, this is my list. Make your own list. But do be sure to watch this when you get the chance. Garfield shows his softer side bonding with Jon's Grandma. If nothing else, watch it to see how wacky Jon's family is.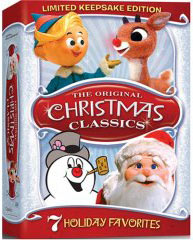 7.
Santa Claus Is Coming To Town
(1970) - It just would not be Christmas without a full helping of the Rankin/Bass specials. Fred Astaire narrates this telling of Santa's origins, complete with some groovy seventies music.
6.
Year Without A Santa Claus
(1974) - Sometimes the sequel outdoes the original. Such is the case here, as this Rankin/Bass production outshines the previous one, thanks largely in part to the Heatmeiser and Snowmeiser singing their own praises.
5.
How the Grinch Stole Christmas
(1966) - While the 2000 version of this film was very good, it still isn't quite at the level of the original animated special. Boris Karloff takes a break from being creepy to narrate this Dr. Seuss tale that features one of the funniest theme songs ever.
4.
Elf
(2003) - The more of these lists I do, the more I realize 2003 was a fantastic year for films.
Elf
is one of very few recent attempts at a new Christmas tale that worked. This movie is hysterical, and if smiling is your favorite, you're sure to love this film.
3.
Love Actually
(2003) - This British ensemble romantic comedy doesn't necessarily define itself as a Christmas movie, but it takes place over the holiday and has a fair amount of holiday tunes on the soundtrack. No matter who I am with, this film is always a crowd-pleaser, so give it a shot this holiday season.
2.
A Charlie Brown Christmas
(1965) - This is an absolute classic. Somehow this special manages to touch on a number of serious subjects surrounding Christmas while remaining cute, warm, and light-hearted (as every holiday movie should). It truly wouldn't be Christmas without this popping up on your television.
1.
The Muppet Christmas Carol
(1992) - Say what you will, but I have a degree in film and I say, without question, that this is the greatest film ever made. The Jim Henson Company, in an early partnership with Disney, take a classic and make it their own in this wonderful retelling of Charles Dickens'
A Christmas Carol
. I highly recommend enjoying this in a room lit by Christmas lights and filled with the aroma of freshly-baked chocolate chip cookies, you will not regret it!
Clearly, many Christmas movies and specials did not make the list. It was difficult for me to narrow it to ten, and to disinclude movies like
A Muppet Family Christmas
and specials like
Frosty the Snowman
. Feel free to include your own top five or top ten lists in the comment section below, I'd love to see your favorites!